Gintaras Visockas
Azerbaidžano – Armėnijos tarpusavio santykiais besidomintys portalo slaptai.lt skaitytojai, be abejo, žino, jog Baku jau senokai leidžiamas specializuotas žurnalas "Karabachas" (Garabagh). Tiek azerbaidžaniečių, tiek rusų, tiek, matyt, ir kitomis kalbomis.
Didžiausią dėmesį žurnalo sudarytojai ir leidėjai sukoncentravę į karinį konfliktą, prieš kelis dešimtmečius įsiplieskusį dėl Kalnų Karabacho regiono (tarptautinė bendruomenė šią teritoriją laiko azerbaidžanietiška, bet ji šiuo metu vis dar kontroliuojama okupacinių Armėnijos pajėgų).
Žurnalo privalumas – tarptautinę bendruomenę leidėjai informuoja apie tikrąsias konflikto priežastis, o ne tas, kurias sugalvojo armėnų propagandistai.
Žurnale taip pat pateikiami pasiūlymai, kaip konfliktą dėl Kalnų Karabacho būtų galima taikiai, sąžiningai sureguliuoti. Be to, Kalnų Karabacho konfliktas lyginamas, gretinamas su kitais pasaulyje kilusiais teritoriniai ginčais. O tai – labai įdomi tema.
Vienas iš neabejotinų žurnalo privalumų – čia skelbiami ne vien azerbaidžaniečių mokslininkų, istorikų, politikų tekstai. Čia publikuojami ir nuoširdžiai Kaukazo istorija besidominčių JAV, Europos autorių tekstai.
Lietuvai turėtų būti svarbu, kad šiame specializuotame žurnale karts nuo karto pasirodo ir lietuvių autorių rašiniai. Nenorėdamas plačiau plėstis, galiu pasidžiaugti, jog, pavyzdžiui, 18-ąjame straipsnių rinkinyje esama lietuvių žurnalistų tekstų, kuriuose Hodžaly tragedija (1992-ųjų vasario 25-26) ar provokacija Sumgaite (1988 metai, vasario 27-29 dienos) lyginamos su Lietuvai tragiškomis akimirkomis. Sakykim, kuo žudynės Hodžaly mieste skiriasi (arba panačios) į lietuvių netektis Kaniūkuose, Klepočiuose?
Labai protinga taktika: jei nebūtų lietuviškų – azerbaidžanietiškų palyginimų, vargu ar šis žurnalas taptų toks įdomus lietuvių skaitytojams, ir atvirkščiai. O dabar – visai kita byla.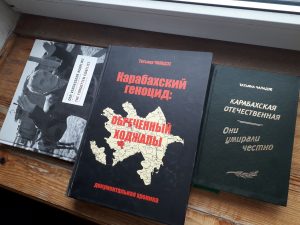 Man regis, azerbaidžaniečiams dar būtų vertinga išgirsti mūsų istorikų komentarus, kaip 1923-aisiais metais Lietuva susigrąžino Klaipėdą (kareivius perrengė civilių drabužiais ir pasiuntė į Klaipėdą organizuoti sukilimą, kurio metu iš uostamiesčio buvo sėkmingai išvytos visos svetimos kariuomenės, įskaitant prancūzų kariškius).
Tad kodėl lietuviams nebendradarbiauti su žurnalu "Karabachas"? Juolab kad šių metų kovo 28-ąją dieną Azerbaidžano sostinėje Baku organizuojama tarptautinė konferencija "Karabachas vakar, šiandien ir rytoj". Taip, svarbiausioji šios konferencijos tema – ne Lietuvos praeitis, ne Lietuvos istorija. Tačiau neabejoju, kad būtų itin sveikintina, jei tame renginyje nuskambėtų kur kas daugiau nei iki šiol Lietuvos ir Azerbaidžano istorijos palyginimų, sugretinimų, vertinimų.
Žurnalas "Karabagh" – atviras visiems sąžiningai istorija besidomintiems autoriams.
Slaptai.lt informacija
2020.02.26