By Gintaras Visockas
On 20 October I attended a remotely organized conference: 'South Caucasus: political – legal aspects after the 2020 autumn war'. This conference, organized by Azerbaijan, was led by Ambassador, professor Namik Aliyev. Political scientists, scientists, journalists from Georgia, Israel, Poland, Moldova, Russia, Azerbaijan, Kazakhstan, Kyrgyzstan and author of these lines spoke at the conference. The recording of this conference is available at day.az .
At the conference I criticized Lithuania's position to everywhere and in all ways indulge Armenia, who for 30 years has occupied Azeri territories (more arguments are available in by collections of articles 'The Tragedy of Black Garden' and 'The Case of Black Garden', published in 2016 and 2021).
Then I received requests from Azerbaijan's journalists, for example, Jamila Chebotareva, to answer several questions. These are my answers to Azerbaijani journalist Jamila Chebotareva.
In which spheres Lithuania and Azerbaijan can successfully cooperate?
Our countries could cooperate in many fields – political, economic, cultural. However official Lithuania does not want to be friends with Azerbaijan. Lithuania's politicians are only searching for ways to establish as many ties as possible with Armenia. Official foreign policy of Lithuania for Southern Caucasus is to strengthen Armenia. Anything else is not important. In my understanding, such stance of official Vilnius is wrong. But I would lie if I hid that Lithuania is allegedly acting objectively. Indulging Armenia is obvious. If Lithuanian leaders fly to South Caucasus, they firstly visit Yerevan. They fly to Baku only to maintain an image that Lithuania is equally just to both Armenians and Azerbaijani.
For example, Armenian Prime Minister Nikol Pashinian's wife has already visited Lithuania (she was hosted by Lithuania's First Lady Diana Nausediene, wife of Lithuanian President Gitanas Nauseda). Mr. Pashinian himself also has visited Vilnius. Wives of Azeri leaders have not been invited to Vilnius. The highest officials of Azerbaijan are also not invited to Vilnius. If Lithuania sends humanitarian aid and vaccines, medical teams to South Caucasus, then it sends them only to Armenia. When the Armenian tragedy of 1915 was once marked at the Lithuanian Genocide and Resistance Centre (LGRC), highest leaders of LGRC attended that event, but when Hocali victims were commemorated at the premises of LGRC, there wasn't even one head of LGRC there. The last example of cooperation between Vilnius and Yerevan is that Transport Ministers launched direct flights Yerevan-Vilnius-Yerevan.
How did Lithuania react to the news that in autumn 2020 in 44 days Azerbaijan in a military way reclaimed its lands?
Of course, I might have missed something, but it seems to me, most of Lithuanian politicians, political scientists, journalists criticized Azerbaijan for choosing a military way to reclaim Karabakh. The fact that, according to the international law, Karabakh belongs to Azerbaijan, that official Baku for a very long time already has been patiently waiting for help from the West, but did not get it – all of that was subtly omitted. Armenia was not criticized for having occupied about 20 percent of Azeri lands for almost three decades. That is my impression.
Are Lithuanian informed enough about Karabakh conflict?
Lithuanians do not really know the real history of Karabakh. Many influential Lithuanians are still convinced that Karabakh is Armenian land. Lithuania does not know or does not want to know that in the 1992-1994 war for Karabakh Armenian troops were assisted by Russian military.
It is very complicated to get Lithuanian media to publish anything favourable to Azerbaijan, especially about the conflict for Karabakh. I say this in personal experience. They do not publish. If you ask Lithuanians, what is Dasnaktsutiun, ASALA or Gncak, often a Lithuanian would answer that 'these are Azeri terrorist organizations'. Really not all Lithuanians know that a Russian military base is still deployed in Armenia, even more, not all know that this year, in the aggressive military drill 'Zapad' held by Russia and Belarus by the Lithuanian border, Armenian military instructors too were learning how to occupy Baltic countries. Only on my portal you will find articles which examine the relations of Armenia and Azerbaijan. There have been only a few books published in Lithuania, which present not only Armenian, but also Azeri arguments. These are historian Algimantas Liekis' book 'Moving Nations' and collections of my articles 'The Tragedy of Black Garden' and 'The Case of Black Garden'. That is all.
Does Lithuania respect territorial integrity of Azerbaijan, that is, does Lithuania agree that Karabakh is a territory of Azerbaijan, not Armenia?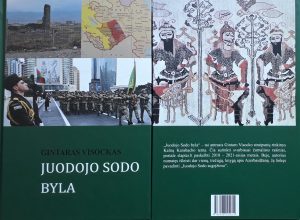 Official policy of Lithuania is correct. We respect Azerbaijan's territorial integrity. But behind the stage it is completely different. I could give a long list of Lithuania, who, ignoring official Baku, have travelled through Armenia to Karabakh and, after returning, would write in Lithuanian media 'what moral and physical pains poor Armenians suffer, fearing cruel Azeri attacks'. I could recall many television programs, multiple publications in respected Lithuanian media, where discussion participants disputed Azeri right to Karabakh. There isn't a single line that many Azerbaijani people in the past lived in Karabakh, even Yerevan, who were driven off their homelands. Nothing about suffering of Azeri refugees. Not a single word that Armenia in autumn 2020 insidiously shelled Ganja, Tartar, Barda cities, which have no connection to Karabakh and that civilian Azeri were killed in these attacks. Not a line that during Armenian rule in Karabakh, many cultural, historical and religious Azeri monuments have been destroyed or desecrated. Only worrying that allegedly now Muslim Azeri, entering Karabakh, will destroy Christian cultural and historic monuments.
Was it possible to regulate Karabakh conflict in a peaceful way?
In my understanding, this conflict could have been regulated in a peaceful way only if the US, NATO and EU had acted in a principled manner – strongly demanded Armenian troops to be withdrawn from Karabakh. Then, yes. But for the last three decades the West, for reasons unknown to me, have been obviously indulging Armenia, who had occupied foreign territories. Therefore, Azerbaijan had no other choice. Either Azerbaijan takes by force what belongs to it according to international law, or for another 30 years listens to Western talks about necessity 'to solve the conflict in a peaceful way'. The West and their toothless negotiation groups are to blame for the fact that in autumn 2020 Azerbaijan was forced to use military measures to take back its lands.
By the way, in past Lithuania was in a very similar situation like Azerbaijan is for Karabakh. I mean the operation of Klaipeda liberation in 1923. Then, instead of listening to Western talks about necessity to peacefully regulate Klaipeda's fate, Lithuania dressedits soldiers in civil clothes and by force took back the port and drove foreign military away. If not for that military operation, Lithuania would have probably lost Klaipeda forever. Therefore, I find acceptable the remark by famous Russian economist Andrey Ilarionov saying that only very rarely it is possible to peacefully reclaim territories. Efforts to find peaceful ways are most often fruitless. Occupants do not give occupied territories with good will.
Is it possible that Azeri and Armenian nations would live as friends?
It is possible. But Armenia should act in away that Armenian history researcher Philip Ekozyan suggests. Armenia has to refuse falsifications. Armenia needs to look at its history with sober eyes. They need to research without prejudice not only their own archives, but also allow in historians, researchers from other countries. Then the worth of myths about 'the great Armenia from sea to sea' will be clearer.
But it is not that easy to look at history honestly. Even Lithuania is not always successful in honest analysis of historic events. In 2005 Lithuanian Seimas adopted a special resolution 'on Armenian genocide in tragic year 1915'. In my opinion it was a very wrong step by official Vilnius. Then, when the resolution was adopted, none of Lithuanian historians, political scientists, journalists not for a moment had gone to archives of Turkey, Azerbaijan, Armenia (who still does not accept foreigners). It is impossible to understand how such statements can be made without analysing primary sources.
I am also ashamed by another Lithuanian step. It took place in 2019. At the Lithuanian Academy of Sciences, Armenians organized a discussion on the 1915 tragedy. Heads of Lithuanian Academy of Sciences acted correctly by allowing in Lithuanian politicians, historians, representatives of Armenian community. But the Academy betrayed principles of democracy and morality, when did not allow into the same hall the Turkish Ambassador and Turkish historians to discuss the same 1915. Armenians are welcome, Turks were shown the door.
I thought that after this slap in the face Turkey would recall itsambassador, stating that from now on Turkish jets would not be protecting Lithuanian air space anymore. But thanks for it, official stance of Turkey remained solid.
Thus, these are my pessimistic answers.
Editorial note
I sent the questions of Azeri journalist Jamila Chebotareva to the President of Lithuania Gitanas Nauseda, Lithuania's Minister of Foreign Affairs Gabrielius Landsbergis and head of Seimas Committee for Foreign Affairs Zygimantas Pavilionis.
We will publish the response if they answer.
2021.10.29; 04:22