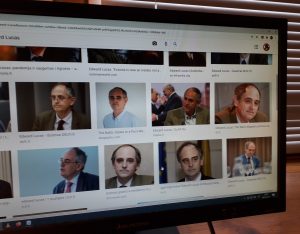 Tikriausiai visi, besidomintys užsienio politika, skaitė Edvardo Lukaso (Edward Lucas) komentarą "2020-ųjų nugalėtojai ir pralaimėtojai". Šią Europos politikos analizės centro (CEPA) viceprezidento publikaciją paskelbė ir BNS agentūra, ir delfi.lt bei lrt.lt portalai.
Be abejo, E.Lukaso, Lietuvai itin palankiai nusiteikusio politikos apžvalgininko straipsniai, – vertingi. Įdomus, skaitytinas ir tas, kuriame ieškoma didžiausių praėjusių metų nevykėlių bei daugiausiai pasiekusiųjų.
Deja, drįstu manyti, jog šį sykį E.Lukasas ir vėl nėra visiškai nuoširdus, objektyvus. Jau ne sykį pastebėjau, kad CEPA viceprezidentas tampa mažumėlę tendencingas, kai analizuoja įvykius Kaukaze. Taigi ir dėl 2020-ųjų nugalėtojų sąrašo, kurį pateikia E.Lukasas, įtariu autorių gudraujant. Tarp nugalėtojų pasigendu nors trumpai paskelbiant Azerbaidžano vardą.
Štai ką rašo E.Lukasas apie karą regione: "Mažiau vilčių teikė karas Kaukaze, pabrėžęs Rusijos, kaip regioninės saugumo arbitrės, vaidmenį ir Vakarų, ypač Europos Sąjungos, bejėgiškumą (ir neišmanymą). Azerbaidžanas susigrąžino teritorijų, o nugalėta Armėnija sumokėjo didelę kainą už savo sustabarėjusį pernelyg didelį pasitikėjimą. Karas pabrėžė abiejų šalių priklausomybę nuo Rusijos. Turkija įgijo prestižo ir gavo tranzito koridorių į Kaspijos jūrą. Sakartvelas, vienintelis nominalus Vakarų sąjungininkas regione, yra susiskaldęs ir pažeidžiamas."
Žinoma, šiuose žodžiuose – daug tiesos. Be abejo, nėra taip, kad apie Azerbaidžaną niekaip neužsiminta. Ir vis tik svarbu – kaip užsiminta. Nesuprantu, kaip galima, vardinant pasaulio nugalėtojus, nepaminėti Azerbaidžano!? Juk ši musulmoniška šalis per keletą mėnesių susigrąžino jai neabejotinai pagal tarptautinę teisę priklausantį Kalnų Karabachą ir septynetą gretimų rajonų (Džabrailas, Agdamas, Fizuli, Kubadly, Zangilanas, Kialbedžaras ir Lačynas).
Taip, Azerbaidžanas šias teritorijas susigrąžino naudodamas karinę jėgą, pats, be Vakarų pagalbos. Tačiau Azerbaidžanas turįs rimtą, neginčijamą pasiteisinimą, kodėl okupuotas teritorijas išvadavo būtent tokiu būdu. Tik neapsimeskime, kad nežinome, kodėl "būtent tokiu keliu". Ištisus tris dešimtmečius Baku subtiliai beldėsi į Europos Sąjungos ir NATO šalių sostines, prašydamas sudrausminti agresyvųjį Jerevaną. Bet juk mes dėjomės negirdintys azerbaidžaniečių skausmo. Mes gudravome: slapta kurstėme Armėniją negrąžinti Azerbaidžanui priklausančių teritorijų, mojuodami "labai senos mistinės armėnų valstybės" ir "etninių armėnų" korta, o Azerbaidžaną visomis įmanomomis priemonėmis tramdėme, demagogiškai iš jo reikalaudami "tik taikiomis priemonėmis".
Bet ką reiškia tas tarsi užkeikimas kartojami žodžiai "taikiomis priemonėmis"? Štai susiradau seną, dar 2011 metų gegužės mėnesį skelbtą publikaciją, kurioje rašoma, esą "Armėnijoje viešinti Dalia Grybauskaitė ragino Kalnų Karabachą konfliktą spręsti taikiai". Būtų labai gražu, jei pavyktų taikiai, be aukų, be kraujo praliejimo. Tačiau ką liepsite daryti, jei okupantas gera valia nesitraukia iš užgrobtų žemių? Tada jam, vadovaujantis sveiku protu, derėtų primesti bent ekonomines ir politines sankcijas. Bet apie galimas ekonomines sankcijas Armėnijai, jei ji nesitrauks iš svetimų žemių, Lietuvos prezidentė D.Grybauskaitė anuomet nė neužsiminė.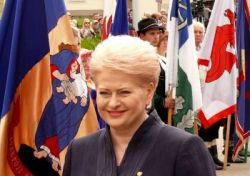 Deja, Vakarai elgėsi kardinaliai priešingai. Rusijai nuolat prikaišiojame dėl užgrobtų teritorijų Moldovoje, Sakartvele (Gruzija), Ukrainoje, o Armėnijos – nė nesubarėme. Ne tik nepagrūmojome Armėnijai mažyčiu piršteliu, bet ją dar kvietėme į įvairiausias Rytų partnerystės programas. Taip elgdamiesi nepalikome Azerbaidžanui kitos išeities – pasikliauti tik savo jėgomis bei ieškoti kitų partnerių. Ir Azerbaidžanui užteko savų jėgų, susirado kitų sąjungininkų. Azerbaidžanas laimėjo. Susigrąžino beveik visas teritorijas, kurias buvo praradęs per 1992 – 1994 metų karą. Pasveikinkime jį su šaunia pergale. Tai – istorinis įvykis. Turkijos padedamas Azerbaidžanas įveikė Rusijos globojamą Armėniją. Kas čia blogo, smerktino? Atvirkščiai – tai puikus pavyzdys Moldovai, Ukrainai ir Sakartvelui, kad neverta aklai pasitikėti vien Europos Sąjunga. Tai – taip pat puikus perspėjimas įvairiausio plauko separatistams – nėra jokų garantijų, jog įsikūręs svetimose žemėse būsite laimingi, kad iš jų po kelių dešimtmečių neteks trauktis.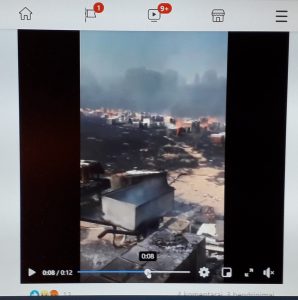 Beje, dabar lietuviškoje spaudoje gausu verkšlenimų, kaip sunku iš Kalnų Karabacho ir tų septynių rajonų besitraukiantiems armėnams. Domėkimės armėnų skausmais ir netektimis, fiksuokime juos. Bet pirmiausia, man regis, derėtų papasakoti apie 1992 – 1994-aisiais iš to regiono išvytų azerbaidžaniečių skauduliais. Taip būtų objektyviausia.
Demagogiški šūktelėjimai, esą savo namų niekas nebombarduoja, niekas nepuola, – neverti ir sudilusio skatiko. Armėnijos fanatikų kietakaktiškumas Azerbaidžanui nepalikęs kitos išeities – tik jėga išstumti priešą iš savo žemių. O štai iš Kalnų Karabacho ir septynių gretimų rajonų besitraukiančių armėnų pabėgėlių barbariškumas – stebina, glumina. Youtube.com kanale neseniai paskelbtas videoreportažas, demonstruojantis, kaip Kialbedžare liepsnoja miškai ir bitynai. Taip, jūs neapsirinkate – besitraukdami armėnai griovė ne tik savo namus, ne tik skerdė gyvulius, kurių nepajėgė pasiimti su savimi, bet dar padegdavo miškus bei tūkstančius bičių avilių.
Kuo armėnams nusikalto Kalnų Karabacho girios ir bitės?
2021.01.11; 13:00